Costa Mesa-based artist Wolfgang Bloch explains how he taps into a meditative state to create his sublime abstract paintings.
Costa Mesa-based artist Wolfgang Bloch explains how he taps into a meditative state to create his sublime abstract paintings.
"I still don't know why I'm attracted to this horizon line," explains artist Wolfgang Bloch. "Maybe it gives me stability, I really don't know."
Born and raised in Ecuador, abstract painter Wolfgang Bloch makes work to get lost in. After years working as an artist and graphic designer for surf brands like Gotcha and O'Neill during the late '80s and early '90s, he rediscovered painting when he stumbled across a way to make work with real impact.
He added a breaking wave to an expansive horizon and moved further away from a conventional canvas to paint on surfaces from wood to matchboxes and broken pieces of surfboard. As life's unexpected twists and turns have washed him into uncharted territory, his work has pushed deeper into abstraction – but the defining horizon is present in everything he does.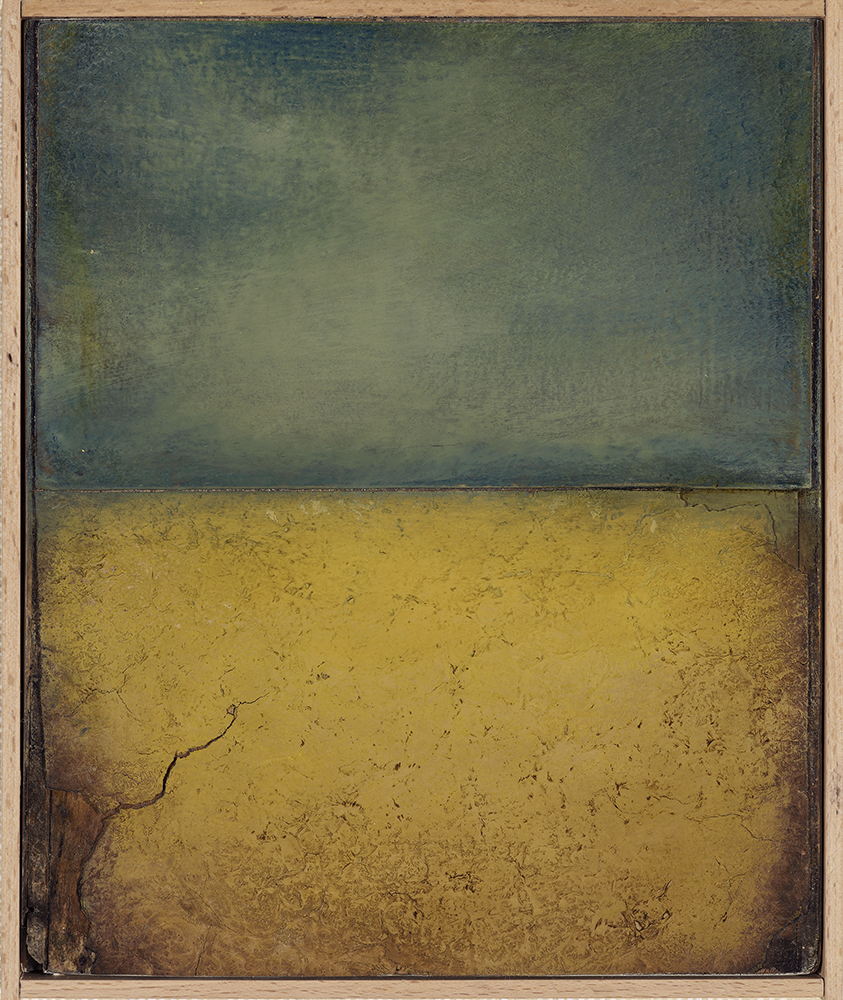 At Sagres Surf Culture in Portugal, a freewheeling journey through the more creative fringes of surfing, Wolfgang explained how one of the pivotal events in his career was the breakup with his wife of two decades. Finding himself without his long-time muse left him unable to paint. But with encouragement from a gallery owner friend, eventually he painted his way through the creative block, which helped him produce his most powerful work.
The breaking wave disappeared and his painting in this period resembled someone drowning, looking desperately up towards the surface. The experience also left him with a deeper understanding of his own creative process. "I realised painting for me is a like a form of meditation," Wolfgang explains. "I go into work, look around for a piece of material that's interesting, I start putting in colour and the next thing I know I'm lost in this state of creativity. It's a form of therapy."
This time of self-reflection and discovery took him back through his formative years, which he spent travelling, surfing and living a nomad's existence up and down Ecuador's glittering Pacific coastline, all the way to some of his earliest memories. "I think the reason I paint this way is because I go back to sitting in front of the ocean as a child," Wolfgang reflects. "I'm not trying to paint the ocean, what I'm trying to do is regain that feeling I got when I was seven years old and how peaceful I felt sitting in front of this ocean."
Today, he's aware that by freeing himself from the world outside, the more purely he channels emotion and colour through his painting. The more intensely he has been able to connect with the trance-like state in which he paints, the more captivating his work has become.
"Now it has become a learned experience, I have different ways of doing it," he explains. "I used to come in and sweep the studio but now I clean brushes. It's the act of cleansing yourself of thoughts about what's going on outside, paying bills or whatever. It's totally ritualistic. I don't start the painting until I know I'm in that zone. It's almost like charging the emotional hemisphere in the brain. It's a very defined moment, you're feeling everything you do, but when the logical side switches on again I'm looking at colours but nothing makes sense anymore."
Huck caught up with Wolfgang Bloch at Sagres Surf Culture, Portugal.
Enjoyed this article? Like Huck on Facebook or follow us on Twitter.