A unique cultural event celebrating Chinese art, culture and film, with more than 40 independent films.
A unique cultural event celebrating Chinese art, culture and film, with more than 40 independent films.
First held in 2011, the Chinese Visual Festival was organised by Chinese culture curators in London. Both the festival's two strands, film screening and art exhibition are tied into a topical issue or theme, such as 2012's 'Run, China, Run', which coincided with the London Olympics.
The event will take place from 7 to 22 May in London at King's College London, BFI Southbank and Bertha DocHouse. Screening films from around the Chinese speaking world, from China, Taiwan, Hong Kong, Singapore and beyond, the festival will include documentaries, fiction and experimental art videos.
The directors and artists themselves attend the film screenings and exhibitions, allowing for debate and participation with the audience through talks and Q&A sessions.
Here's our pick of the best of this year's programme.
DOCUMENTARY  
Endless Road
Director of the 2012 UNICEF Prize winning documentary Blossom with Tears, Huaqing Jin now turns to the controversial topic of environmental pollution. Endless Road follows a woman called Yan, whose mother ignores her advice and reports the pollution being caused by various paper-making factories in their village. Causing great worry for Yan and the family, her mother begins petitioning and protesting, determined to try and make a difference despite the odds and bureaucracy she faces. Wednesday 20th May 18:30 Safra Theatre, King's College London  
Cut Out The Eyes
From one of the most acclaimed documentary filmmakers working in China, Cut Out the Eyes, shot in Inner Mongolia, follows blind traveling musician Er Houshen as he wanders the land, performing and recounting the troubles he has encountered over the years. A mixture of a biopic and a modern ethnographic documentary, Xu Tong's film tells a compelling story both about Er and the connections between artists and how their art is shaped by lived experience. The film is a gripping study of endurance and change, the folk traditions slowly but surely being transformed into fables and imagined narratives. Sunday 10th May 19:00 Nash Theatre, King's College London
Barking
Barking is a challenging short documentary about the cruel treatment of dogs in China. In the suburbs of large Chinese cities, stray dogs that have been dumped and abandoned live in garbage dumps and markets. There is a business of capturing and selling the dogs to restaurants or luring them to markets to be butchered for meat, some even stealing dogs from their owners. Animal cruelty as a social problem has been an increasingly hot topic in China in recent years, and Geng Yi's documentary tackles the brutal reality of the dog meat trade head-on. Wednesday 20th May 18:30 Safra Theatre, King's College London
FICTION
The Rice Bomber 
Based on real events that took place in Taiwan. In November 2003, the bomb disposal squad is called to dispose a "rice bomb" in a park in Taipei. On the bomb is attached a note, stating "Against rice importing" and "the government should look after its people". The incident is the first of 17 rice bombs which soon sweep the country. A refreshing and challenging look at contemporary Taiwanese economics and politics, The Rice Bomber, shot in quasi-documentary style by Cho Li, is a strong piece of independent cinema. Saturday 9th May 18:30 BFI NFT2
Wandering Mind
Wandering Mind is a polished slice of micro-drama revolving around the second meeting between two women, Yellow and Lu, the latter having been at Yellow's house when her husband died abruptly. As their conversation progresses, the truth about Yellow's marriage is slowly revealed, as well as Lu's connection with Yellow and her husband. Past confusions and miscommunications are navigated as the two draw closer to a realisation that's as sad as it is beautiful. Monday 18th May 19:00 Safra Theatre, King's College London
The Hammer and Sickle are Sleeping 
Award-winning short The Hammer and Sickle are Sleeping offers a savage yet absurdly funny look at human weakness. Set in a small village in remote rural China, a trio of downtrodden men do their best to rob people to try and make enough money to get by. Their schemes invariably end in disaster – the three are an incompetent bunch. Though essentially a comedy of errors, the film comes with a distinct social conscience and a biting script that edges into satire and keeps veering off into unexpected territory. Saturday 9th May 15:30 BFI NFT2
EXPERIMENTAL
The Underworld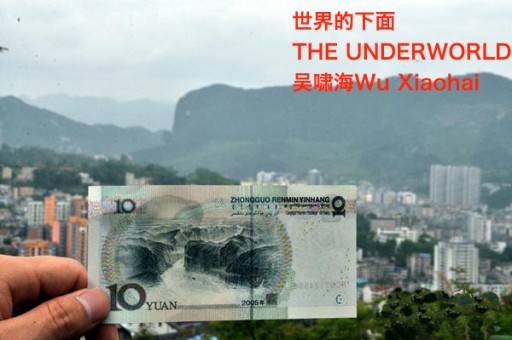 The Three Gorges was once the most beautiful heritage site along the Yanzi River in China. Underworld documents the change of the Three Gorges (San Xia) Dam between 2002-2009 from the artist's eyes. As one of biggest water conservancy projects, the San Xia project has faced criticism from scientists, environmental activists and heritage specialists. During the implementation of the project, 1.4 million people were uprooted. Tuesday 19th May 20:30 BFI NFT3
The Birth of a False Comedy 
A short film depicting our world from the perspective of those labelled mentally ill, and how they conceive and interact with 'reality'. Friday 15th May 19:00 Nash Theatre, King's College London
Time of Stomach
This short is a metaphor of the history of China since 1949. The people are the creators of the history and they themselves are also changed and altered by the history. All the revolutions and movements are consumed by the stomach of time into dusts at last, the hourglass of time is a real huge crusher. Thursday 7th May 20:30 Chelsea
Find out more about the Chinese Visual Festival, London, May 7-22.