Ed Templeton shares the stories behind his five favourite photographs from his time in the UK and France.
Ed Templeton shares the stories behind his five favourite photographs from his time in the UK and France.
Ed Templeton's #DailyHBPierPhoto has become a mini Instagram sensation in its own right. But for now the Huntington Beach, California photo phenomenon will have to take a back seat, because The Tempster is currently on the other side of the pond, with his wife and fellow photographer Deanna riding shotgun.
After hitting the UK, the skateboarder, artist and photographer has arrived in Bordeaux, France for ADVANCE, an art show presented by RVCA, alongside the ANP collective.
"For the ADVANCE exhibition I chose a big sample of photos from my archive to show," Ed says. "So the dates and places and themes are all over the place. It's a nice sample of the kind of photos I shoot, I suppose."
"The rest of the artists vary widely, as is RVCA's style," Ed continues. "We have Ben Horten, an amazing artist and draughtsman, who has done loads of skate graphics and is showing his works on paper. A photorealistic painter named Jerome Romain and Benjamin JeanJean, who is an incredible tattoo artist. Photographer Andrea Do Souto is showing photos from the skate scene and we've got pro skater Kevin Long, whose drawings are incredible! He's really good!"
Ever since touching down on this side of the Atlantic, Ed has been shooting street life from his own unique perspective – even (partly) resurrecting his daily pier snap with a #DailyBrightonBeachPierPhoto.
We reached out to Ed for his insights on his five favourite photos from his mini Euro tour.
Trafalgar Square, London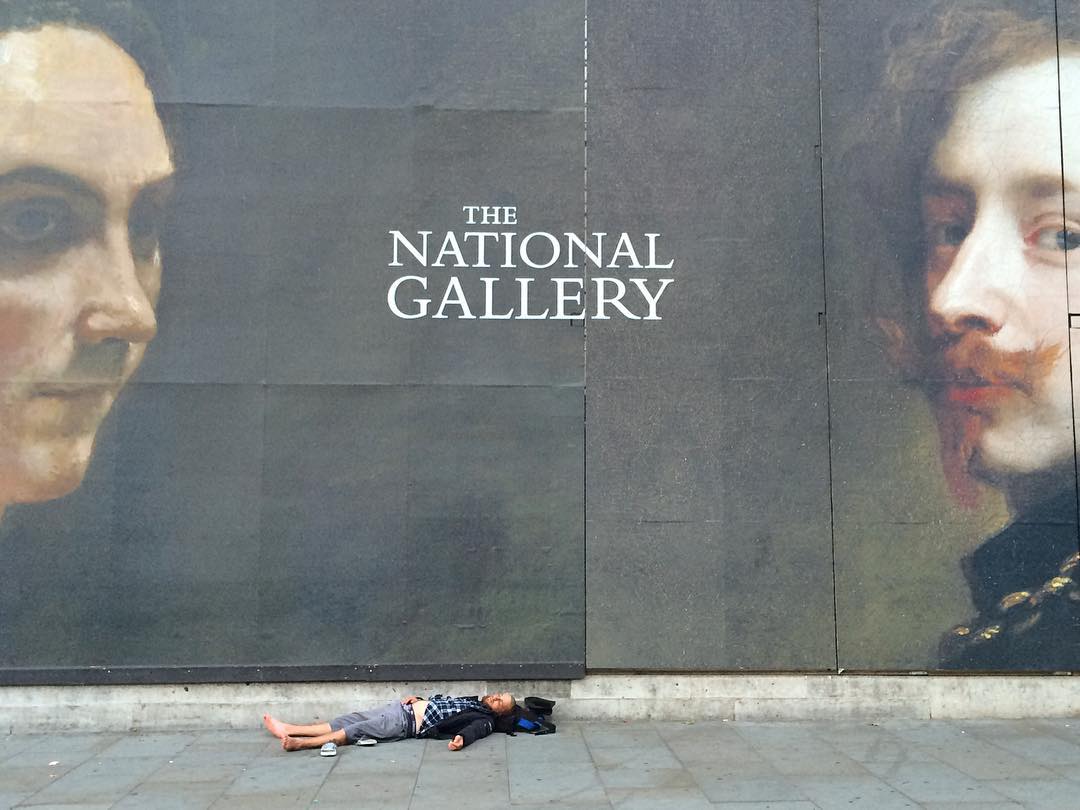 "We came around the corner and saw that guy sleeping there. The funny thing about it was the strange location in relation to the foot traffic coming through the area. So I thought about getting a photo of some of the reactions on people's faces when they saw him. But then I saw the big advert for the show in the National Gallery and saw a wider picture.
"Again I was frustrated because I only had my 50mm lens and couldn't get the shot I wanted with it because it's too narrow of a frame and there were too many people walking by. For me, film comes first and Instagram is usually an afterthought. But the lens on the iPhone was perfect for this – I just had to wait around 10 minutes for no people to be in my shot!"
A puppy accident, London
"I was walking in Shoreditch with Deanna and our friend Kevin Barnett (who has made all of Toy Machine's skate videos for years, and is now going to the London Film School) when we saw the street had been blocked and police tape was everywhere.
"When we got to the scene of the crime it was both cute and kinda crazy. A van had hit a pole, but there were two dogs on leashes coming from inside the van. The sidewalks of London are always packed, I can't imagine a van running up onto there was a good thing. It left us with more questions than answers."
#DailyBrightonBeachPierPhoto
"This was my first time at Brighton beach and I was excited to see the pier and compare it to the Huntington Beach pier I walk most days at home. The Brighton pier is MUCH more photogenic, so much more history, architecture, rides, and food than the HB pier! We carefully walked ourselves to every nook and cranny to see the pier from every angle. I shot six rolls of film!
"This was just a good side view of the pier, but I had to include these old salts in the shot. Photographer Nick Waplington grew up here and said he would hang out at this spot during storms and the waves would crash over them."
Skater moms, Bordeaux
"This was just a random photo. When we got to Bordeaux we realised a lot of the streets are very smooth, unlike many old French cities. Because of that, I noticed there are lots of skaters around and also many people using skateboards as transportation, including loads of girls – something I like to see and support. So when we saw this older woman rolling I thought it'd be a funny Instagram."
Miroir d'Eau, Bordeaux
"This flat pond/fountain in Bordeaux is a trip! It slowly fills up to about two inches, then drains, then shoots mist periodically. It's been really hot while we have been here, 30+ degrees. We had been walking and stopped here to watch the kids whose parents had stripped them to their undies and set them free to play in the water frolic and splash about. The sun was hanging low in the sky and there were some clouds. The mist started and the light was crazy!
"I was shooting into the sun by chance and tried to shoot some film, but did get out the iPhone for a few snaps. Only one didn't have a parent shooting a photo in the frame, which sorta messed up the shot to me. We went back the next day to try to get more shots from here, but the people, light and the mood had changed, so there was no way to recreate that shot I got."
RVCA presents ADVANCE, an art show featuring Ed Templeton and the ANP Collective at Bordeuax's Darwin Ecosystem, open September 7-28.
The ANP collective is made of RVCA's Artist Network Programme and the show features work from Ben Horton, Benjamin Jeanjean, Jerome Romain, Kevin 'Spanky' Long and Andrea Do Souto.
Enjoyed this article? Like Huck on Facebook or follow us on Twitter.