After realising his life has been defined by addiction, Jordan Gale found a way out through photography. But in documenting his social life, the 24-year-old had to face some uncomfortable truths about himself and his loved ones.
One day, for an analogue photography class, Jordan Gale went wandering towards an abandoned building.
Stepping into a room on the ground floor, he startled a man ripping copper out of the walls. Jordan, startled himself, tried to assure the man that he wasn't about to call the cops, that he was just there to take pictures.
But the nervous figure didn't speak much English, so Jordan resorted to an improvised sign language. The photographer gestured at the school camera he was carrying, trying to disarm the situation, when the man unexpectedly agreed to have his portrait taken: standing there stoically, breaking into a wide grin, beside a towering pile of copper almost as big as him.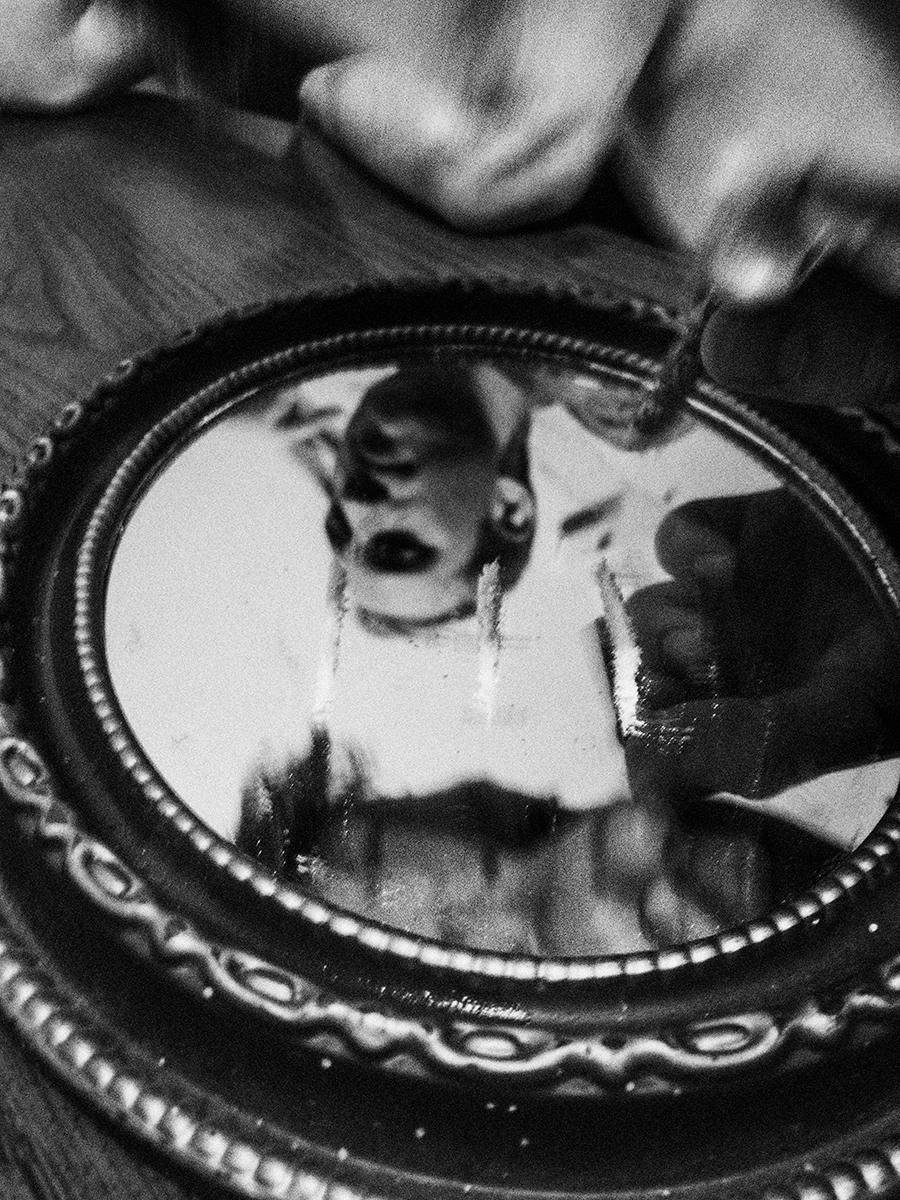 "I just remember leaving that interaction with a massive rush," says Jordan now, eight years later. "I think I was dumbfounded at the camera's power as a catalyst for experiences and interactions. I was hooked after that."
Jordan's entry into photography coincided with the end of a dark time in his life. Growing up in Iowa as the only child of a single mother who struggled with addiction, he developed a drink and drugs habit until – even at the age of 15 – it felt like life was slipping out of control.
"I honestly was the biggest troublemaker as a kid," says the 24-year-old. "My mind was always in the clouds somewhere. Either that or I was getting myself and others around me into some kind of mischief. I hated school and never really knew anyone that went to college, let alone left Iowa, so it never seemed like an option, let alone a possibility."

"By 22, I didn't really consider myself in a good place… I also wasn't doing too much about it. I mean, yeah, I was pushing through school but I was out of work, out of money and just unsure of what I was doing. The only consistency was partying and photography."
After attending community college in Cedar Rapids, Jordan began to travel a little, slowly realising that he wanted to study photography at the University of Iowa. While there, he decided to completely give up drugs while developing a better understanding of their presence in his life.
It felt like they'd always been there, he says, and retracing his steps through imagery felt like the only comfortable way to reflect on that.

At first he just started taking pictures of his friends partying, the anyone with a camera would, but that quickly grew into a project – titled It Is What It Is – which Jordan could pour all his energy into. If he wasn't in class or out shooting, he was constantly processing film, scanning negatives, printing images or trying to translate their meaning into words.
"That time alone with the work gave me a chance to analyse everything I felt. I was confronting uncomfortable truths about myself and loved ones. I was trying to put my mind in the bodies of my subjects, get out of my own head and accept the past as the past."
Taking his time with the process, Jordan felt that no matter what narrative emerged, it had to come from a place of compassion. "I never want to be a photographer who profits from other people's battles or misfortunes," he says.

Most of It Is What It Is features people who have been in Jordan's life for many years. He'd show them examples of the work, have a conversation about why these images are important, and make sure they were fully prepared to participate.
"I mean how can I expect someone to be vulnerable and trust me if I'm not prepared to do the same?" he says. "Trust is established by opening yourself up and being human to someone you may not even know."

One of those participants was Jordan's mother. By the time the photographer realised how he really felt about her drug addiction, his own habit had taken hold – but more as a way to escape those feelings. So as the project came together, the pair finally had an opportunity to talk it through.
"Growing up, her dependency was a source of embarrassment, pain and resentment. She's known that for some time now, so in a way I feel like she worked [on this] out of some sense that she owed it to me, which in turn made me feel exploitive," he says.

"In the end, though, I think she's seen that the project sparked conversations between the two of us which we hadn't been able have otherwise. The project and reception towards it healed a lot of wounds we carried. I think after a bit of time she saw the importance that the images had for me."
Every image has its own story and significance, Jordan says – lessons learned from "trials, tribulations and conquests." But the one he connects to most of all is of his good friend Dalton. It was taken one day as a bunch of friends were out skateboarding, with Dalton stopping at a chainlink fence when the sunlight struck his fingers.

"I see ideas and themes that I try to address in my work physically manifested here – ideas of being trapped and hopeless," says Jordan, who's about to finish his undergraduate degree this spring.
"A lot of people feel this way in Cedar Rapids. A lot of people want to leave the midwest, but don't really have the means to. It's the feeling of being stagnant that I find very personal."
Check out Jordan Gale's portfolio or follow him on Instagram.
Enjoyed this article? Like Huck on Facebook or follow us on Twitter.