In 1970, photographer Helaine Garren turned her lens on Bensigner's: a windowless, testosterone-fuelled pool hall in Chicago.
In 1970, photographer Helaine Garren turned her lens on Bensigner's: a windowless, testosterone-fuelled pool hall in Chicago.
In 1961, The Hustler was released in America. The film took the nation by storm, telling the story of "Fast Eddie" Felson, a pool shark who challenged legendary "Minnesota Fats" on his home turf. It was based on a 1959 novel of the same name, which took its inspiration from Bensinger's, a legendary pool hall located in a windowless basement on Diversey and Broadway in Chicago. 
"All you could smell was all the action and an atmosphere of a torture chamber," said Artie Bodendorfer, a nearly unbeatable one-pocket pool hustler. "It was the greatest and most exciting pool room to be in, with all the high class, low class, thieves, killers, judges, lawyers, politicians, policemen, gentlemen, pimps, drug addicts, con men. You name it – Bensinger's had it all."
In 1970, Helaine Garren (1944-2016), a student at the Art Institute of Chicago, stepped inside Bensinger's and got to work on her first assignment. Garren, who long enjoyed playing pool herself, recalled having spent "many of my bad-girl years learning the game".
At Bensinger's, Garren's twin passions met, resulting in a series of stunning black and white photographs on view in Helaine Garren: Bensigner's. "I had spent a good deal of time shooting pool there and thought the beautiful side lighting and shady would provide an ideal setting," Garren said. "I began shooting with a telephoto lens at first. I didn't want to disrupt the concentration and social dynamics at the tables. I was there so often, though, that I became a fixture and could sit right next to the tables, and no one seemed to notice me."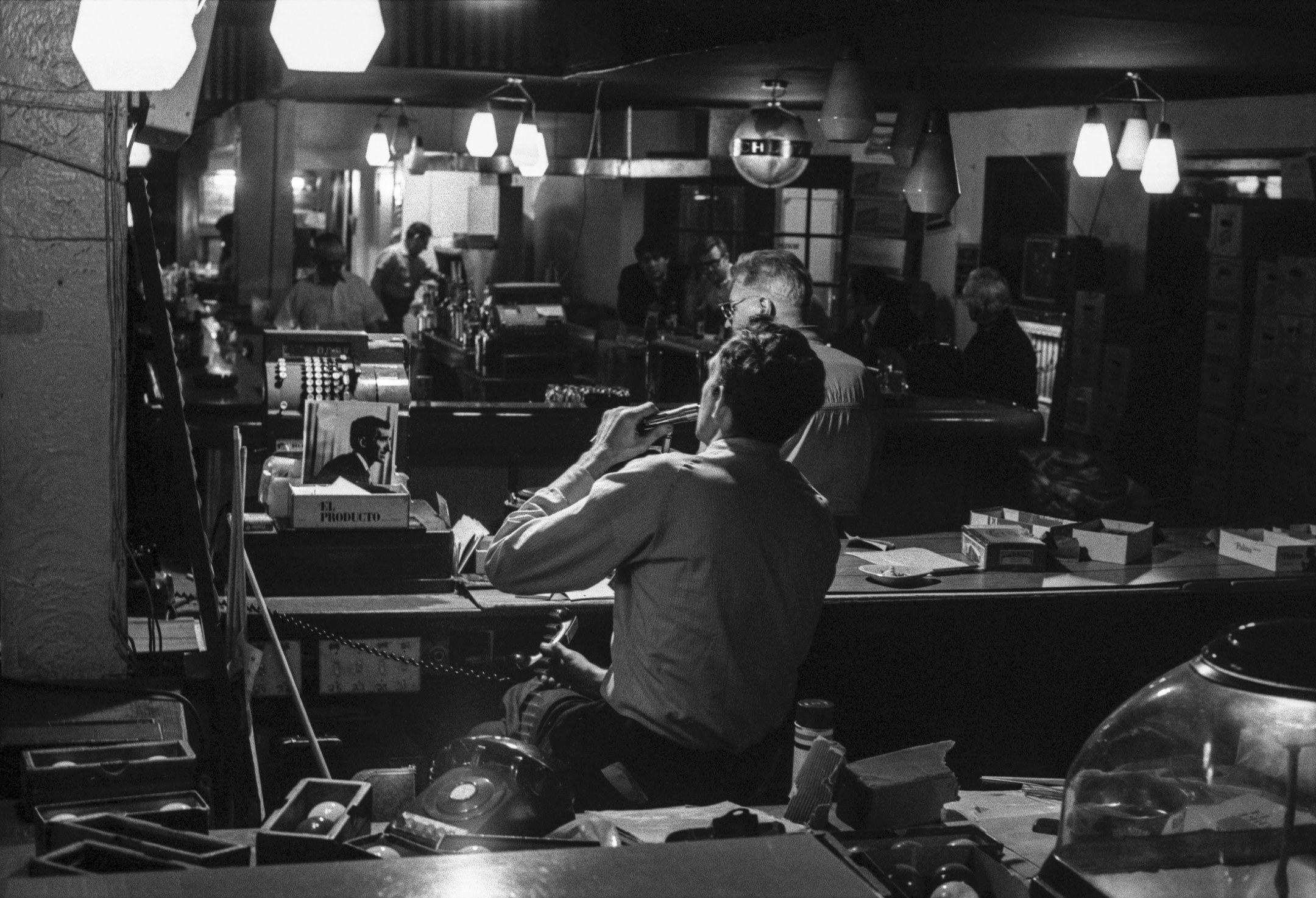 After Garren completed the assignment, Edwards bought a few of her images. She then packed up the negatives and kept them in a box in her closet for 30 years. In 2002, she took them out for the first time and began to show them around. She met Chris Bennett at the Newspace Center for Photography in Portland, OR, and they showed the work for the first time in 2005. 
"Helaine was very outgoing and friendly but she also had an attitude as she was not to be taken for granted," says Bennett. "She was smart as a whip and not really afraid of anything.  This probably helped her get along quite well in a giant poolroom full of men."
"She loved the lighting there the most: so dark and film noir. It created challenges with exposure and movement but she dealt with that over time. She also just loved the huge variety of people that hung out playing pool there. So many characters from so many walks of life, but all with an overlapping passion for billiards."
Follow Miss Rosen on Twitter.
Enjoyed this article? Like Huck on Facebook or follow us on Twitter.