Photographer Kirill Golovchenko discovers the oddities of the seaside in his home country.
Photographer Kirill Golovchenko discovers the oddities of the seaside in his home country.
There's an underlying psychedelia to the beach. The oversaturated red cheeks of pasty men, visibly lathered in sunscreen; women in multicoloured swimsuits leaving little to the imagination; children with crocodile floaties and bright blue tongues. That, and the heat, heavy on the skin and on the air, making everything just that little bit more surreal.
Kirill Golovchenko's new book Out of the Blue captures that sense of oddity. Calling the seaside "calming and threatening at the same time", the Ukranian photographer used a bright blue dinghy to zoom in on unusual aspects of the beach experience in his home country.
"You can find out more about people at the beach than at other public spaces," says Golovchenko. "People go to the beach, take off their clothes, lie down next to other people they don't know, swim, eat, tan, and drink… The more people there are lying on one level, the more join. Some parts of the beach are so hopelessly overcrowded that you can't get to the waterside for all the beach-towels."
"My images are what they are, merely windows on the reality of the seaside. Most images are direct observations captured using a camera: seen briefly, and then they're over. I've always needed to be close up to people, to almost be part of them, which is like saying I was never just an observer but also a holidaymaker. One of them."
This duality is present in his photos, which feel like voyeurism and holiday snaps at the same time. The dinghy's circle frames scenes that might otherwise be seen as unremarkable and gives them a new, surreal, almost performed context: A headless sunbather, someone high-fiving a foot, a crowd gathering around a giant inflatable panda.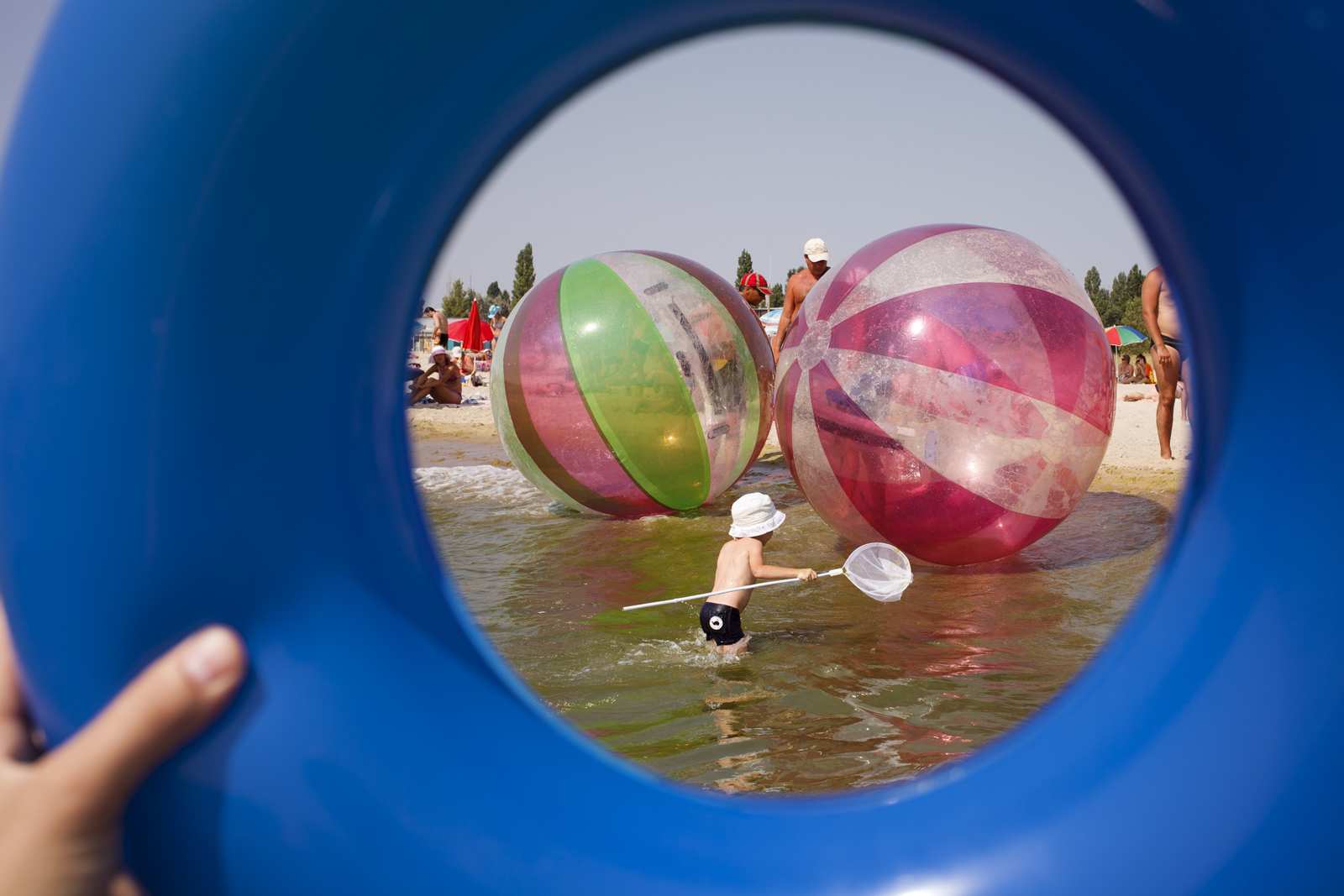 Out of the Blue is published by Rodovid Press.
Enjoyed this article? Like Huck on Facebook or follow us on Twitter.