We went along to the NYC Downlow's messy, sweaty and wild tenth birthday celebrations at Glastonbury this weekend.
For just four nights a year, the UK's best queer club opens its doors. We went along to the NYC Downlow's messy, sweaty and wild tenth birthday celebrations at Glastonbury this weekend.
I'll never forget my first night at Glastonbury's NYC Downlow, although to be fair I've never really been able to recall too much of it either. Tucked away in the southeast corner of the sprawling site, the Downlow is the festival's sweaty, dark and unashamedly queer late night party venue, and this weekend it celebrated a decade of existence.
"Me and Steve [Stephen Gallagher] set up Block9 together essentially as a way of making the NYC Downlow legitimate," explains Gideon Berger, who introduces himself to me as Gid, as we sit in the crew-only backstage bar behind the venue. Gid and Steve now run Block9 – their radical set and environment design creative company – from a warehouse in London, working on projects across the globe. But the NYC Downlow is where it all began, and to Gid it's particularly special.
"I was nervous the first night we opened the doors to the Downlow – would there be any fellow brothers there?" Gid explains, when I ask how he felt this time ten years ago. Festivals in the UK hadn't really created LGBT-specific spaces before, and very few create them to this day. The team, back then a skeleton crew of 15 who pretty much did everything, in what the pair describe now as a sort of "queer, communist experiment." They didn't know if it would pay off.
"Turns out the gays are quote good at intuitively finding our way to where the action is," Gid laughs now, pleased to say they had little to worry about when it came to pulling in the crowds. "I was pleasantly surprised that there were loads of homos in our midst, and loads of undercover potential homos too, discovering that they were homos through the Downlow."
A decade later and the Downlow is still thriving, as for just four nights a year one of the world's best queer clubs opens its doors. On Saturday night, its tenth birthday was as wild as ever, with performers and crowds losing their minds and their inhibitions too.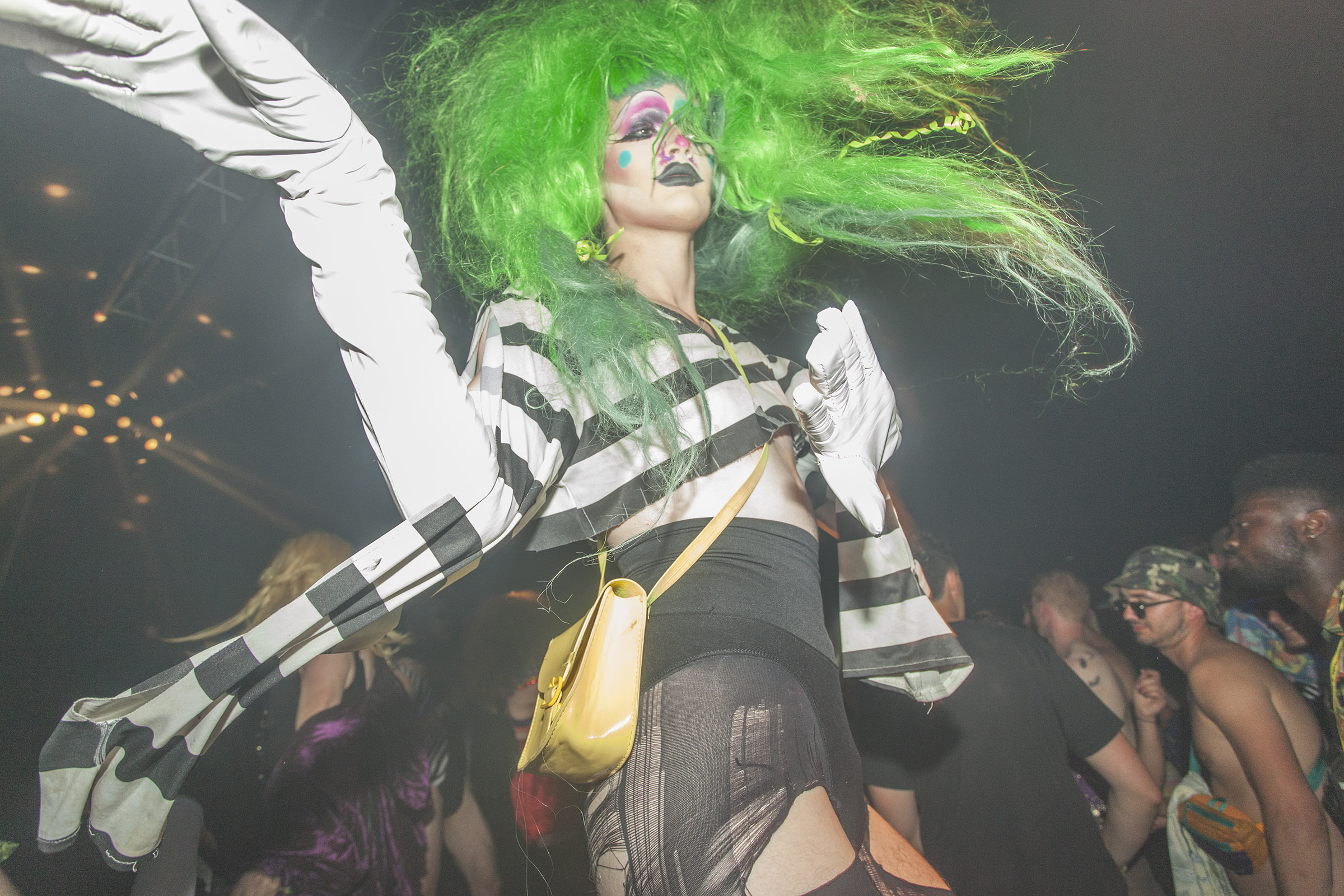 Where did the idea come from for the NYC Downlow?
I went to Burning Man quite a lot when I was younger and I decided I wanted to do a gay space, a queer space, here at Glastonbury. I'd been coming since I was a kid, and had been involved in putting on some of the illegal raves outside of the perimeter here in the 90s. There was a lot of good house music about, but the queer identity around house music was missing.
In the US the relationship between house music and queer culture was a given on the festival and party scenes, but here in Britain it felt a bit lopsided. I thought fuck it, let's do the NYC Downlow here at Glastonbury.
The Downlow has been going for a decade now, what have been your highlights?
Ten years down the line, seeing so many thousands of my fellow LGBTQI nutters and freaks coming together to celebrate each other and our cultural heritage in the Downlow, and it being a cult phenomenon cherished by so many? It's great to have facilitated that happening.It's the small moments that hit us, and reassure us that we're not just making a fucking gay theme party.
It's not often that you can just stumble into a gay space, in cities on a night out it's an active choice. Does that change the dynamic?
I get emails every year from people saying they just want to say that before the Downlow they didn't really realise it was possible to be gay, and to be cool, and to be hot and to be political and to be wanted. They say they had no idea you could be part of a family, that being queer isn't just about Beyonce and slash curtains and shitty provincial gay bars getting pissed on gin and tonics.
A bunch of people have found themselves in the dark room sucking cock, and have thought "I might change my life because of this." Of course, that's a very basic example, but in a more holistic and spiritual way they feel good about themselves in relation to my time in the Downlow and will go on to make different decisions. When you get emails like that, it's really good news.
It's probably the first queer space a lot of young people interact with and enter too…
Yesterday I was putting some posters up with the finishing touches outside the Downlow and this Somerset mum came up to me with her 12-year-old son and she asked me what time we open. This camp as shit little kid asked me the same thing, and said who much he loves drag queens.
I told them it's not over 18, come in now, come back at midnight tomorrow night to party. That's the fucking good shit, there's not an ounce of shame there.
Tell me a bit about the inspiration for the music, the aesthetic… We've got NYC Meatpacking district buildings, sauna towels and more.
The Downlow is gay cultural heritage passed down from generation to generation about who we are. Gay history has been erased from the history books, so the 30, 40, 50, 60 years that we do have has a clear lineage, through music and through looks and through ways of being. The Downlow is putting that centre stage. We are saying we invented this, our people, and we are saying if you want to come to one of our nightclubs we will show you how it's done.
Keep an eye out for more on Block9's past, present and future with Gid and Steve over the coming months here on Huck. 
Enjoyed this article? Like Huck on Facebook or follow us on Twitter.