So. Where to start? 
Let's try the beginning. Back in February (which, by now, feels like more than a few lifetimes ago), we started work on the latest instalment of Huck. The one you're reading now. 
The working title of the issue was Sanctuary. Over the course of its 100 pages, we collected stories of refuge and resilience: people who'd found solace in a scene, movement or culture; communities who'd come together as one to protect and empower each other. While we're always proud of the magazines we put out, this one felt special; packed full of hope and possibility. 
Then everything fell off a cliff.
In March, as countries across the globe began to shut down, we made the decision to hit pause on the issue. A whole host of reasons – all of them fairly obvious – reinforced that it was the right thing to do. So, with heavy hearts, we left it to one side, all but finished and ready to go.  
As the weeks passed, it soon became clear that the landscape we'd be returning to wouldn't be the same one we'd left. And rightly so. But when those weeks turned into months, with life changing beyond comprehension, it left us at something of a crossroads: at a time of unprecedented fear and unrest, what does sanctuary actually mean? 
Which brings us here. When we first compiled these stories five months ago – written and shot by some of the best people currently doing it – we felt they contributed to incredibly important narratives. Today, with everything that's happened since, we believe that even more strongly. 
For that reason, we've decided to share Sanctuary in its original form, with only one key change. Before going to print, we handed the magazine back to the people featured within it, for them to annotate, update and transform. You can see those interventions – as we're calling them – in the form of yellow post-its, which appear throughout the issue.
Those who responded to the invitation to contribute became, along with the writers and photographers, co-authors of this magazine, which exists as a fluid thing moving freely between Then and Now. It is dedicated to everyone campaigning for a better world – particularly the awe-inspiring Black Lives Matter activists, who have our unconditional support in all that they're fighting for. 
The issue is also for Aron 'Arona' Mújica, a colossus in the Caracas drag scene – covered in-depth on pages 26-34 – who died on 9 June, 2020 at the age of 49, just over a week after he updated his own story. Throughout his life, Aron was a beacon of solidarity for his community, whose devotion to doing what he loved was matched only by his commitment to enabling others to do it too. 
If there's anything we've learnt from 2020, it's that you can't predict what will happen next. But what you can do is trace out different possibilities, and battle for the ones you believe in. That's certainly what we plan to do. We'd be honoured if you joined us. 
– Niall Flynn, Editor 
–

–
As violence and turmoil continue to beset the Venezuelan capital, its drag community has positioned itself at the forefront of a DIY fightback – one that refuses to stand by and watch the city crumble. (Words and photography: Lexi Parra.)
Problems in Greece are far from over. In a volatile political climate, economic woes still prove a hotbed for far-right activity. But in the face of hostility, a group of young artists from diverse backgrounds have built a dynamic scene from the embers of crisis – one that serves as a direct rebuke to those seeking to other them. (Words: Alex King. Photography: Theo McInnes.)
Thundercat is closing a difficult chapter with the release of his best work so far. If there's one thing the past few years have taught the LA virtuoso, it's that life is as fleeting as it is precious – so he plans to continue living it to the fullest, regardless of where that journey takes him. (Words: Niall Flynn. Photography: Kendrick Brinson.)
For a select group of daredevils, Nazaré is a big-wave mecca: a majestic break where white whales are routinely conquered. Writer and former pro surfer Jamie Brisick reports on an epic weekend of riding giants. (Words: Jamie Brisick. Photography: Owen Tozer.)
In one of Rio's toughest neighbourhoods, a makeshift ballet school is offering young women the opportunity to escape the everyday struggle of favela life – even if just for a day. (Words: Fabian Federl. Photography: Evgeny Makarov.)
Our Agony Uncle for Issue 73 provides helpful advice for readers in need. (Words: Perfume Genius. Photography: Camille Vivier.)
Founded by a group of hard-nosed riders back in the '70s, Mablethorpe Sand Race is a unique offff-road contest where one thing is guaranteed: if you're not getting messy, then you're not trying hard enough. (Words: Eva Clifford. Photography: Claudia Agati.)
Mavi is an intriguing proposition: a budding neuroscientist wise beyond his years, who also happens to be one of hip hop's brightest hopes. Whether he's exploring mental health, liberation or #MeToo, the Charlotte native's music is driven by a desire to seek out answers – regardless of how uncomfortable the truth might be. (Words: Thomas Hobbs. Photography: Nate Palmer.)

For three decades, Chris Killip's photographs of an old anarcho-punk club sat gathering dust in a box. However, in the cold light of day they've taken on new meaning, as a timeless portrait of working-class Britain. (Words: Andrea Kurland. Photography: Chris Killip.)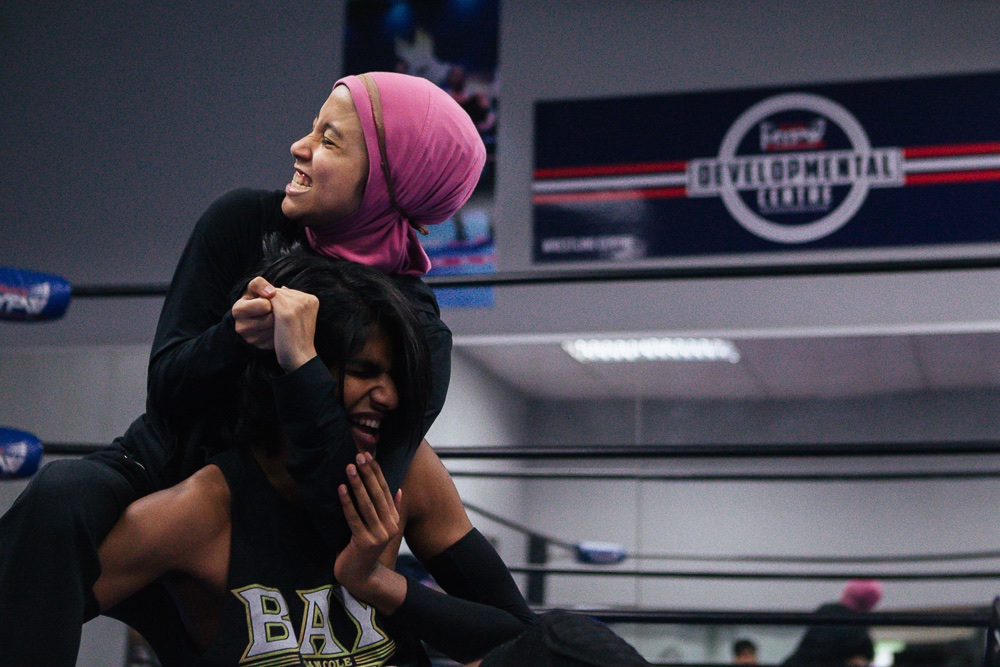 At five-feet tall and around 94lbs, 'Phoenix' doesn't look like your typical all-star wrestler. But ask the 20-year-old, thrust into the spotlight as the world's first hijab- wearing pro, and she'll tell you that it hasn't stopped her yet. After all: the bigger you are, the harder you fall. (Words: Beth Webb. Photography: Annice Lyn.)

Each issue, we crash someone's personal space in a bid to find out why it means so much to them. This time around, musician Baxter Dury invites Huck into his London flat: an eclectic riverside property full of history and colour, where he spends most of his time dodging noise complaints from the neighbours. (Words: Jeremy Allen. Photography: Jackie Dewe Mathews.)
Rita Indiana is best defined by her fearlessness. As the 42-year-old author and musician gears up to release her second book she shares some of the valuable advice she's picked up along the way. (Words: Katie Goh. Photography: Erika P. Rodriguez.)
What does America look like today – and how do you go about capturing that? For our opening stills, three documentary photographers share their electric portraits of different communities across the U.S. (Photography: Walter Thompson Hernandez, Renee Maria Osubu, Akasha Rabut.)
Pick up The Sanctuary Issue in the Huck Shop, or subscribe to make sure you never miss out.
Enjoyed this article? Like Huck on Facebook or follow us on Twitter.