Cyclist, publisher and entrepreneur Juliet Elliott on her top bike-related happenings of 2014.
Cyclist, publisher and entrepreneur Juliet Elliott on her top bike-related happenings of 2014.
Juliet Elliott loves bikes. It doesn't take a long time to work that out from her Instagram. A former pro snowboarder and bike messenger, the now Devon-based cyclo-phile spends a lot of time turning wheels in the great big outdoors. So who better to ask to recommend their best products, races, events and art in the bike world in 2014?
Here's the lowdown. Feel a new year's resolution brewing?
Rad Race
This year the Rad Race team began organising a series of awesome bike races in Germany with a strong emphasis on fun! I entered the first one in Berlin, which took place on a Go-Kart course.

Eroica Britannia
The first ever Eroica Britannia gave the spirit of the original vintage bike ride from Tuscany a thoroughly British twist. It was superb!

Cool Kits
This was the year that cycling kits got awesome, with new and young independent brands offering up some bangers. I love Warsaw Cycling, Attaquer and Team Dream Cycling Team's brilliant colours and graphics.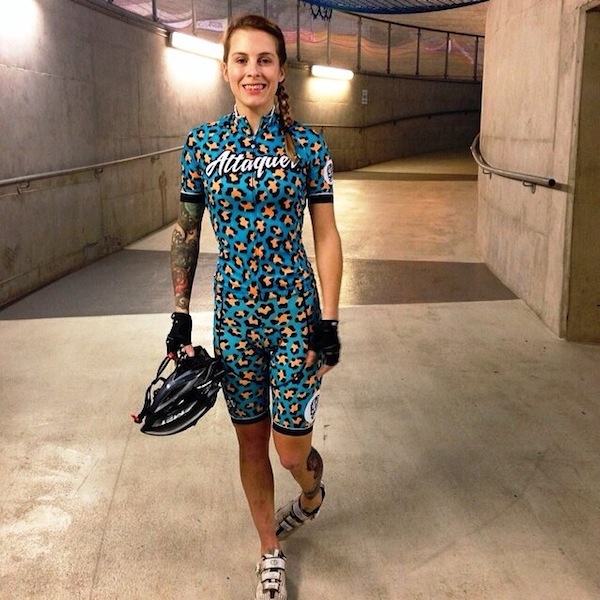 27.5 inch wheels on mountain bikes
Everyone in the mountain bike world has an opinion on which wheel size you should now be riding, and 2014 was the year of the 27.5-inch wheel. After trying the others, these are the ones I'll be sticking with.
Emily Maye – We Were Fought By Men Very Fast
Photographer Emily Maye's first solo exhibition in the UK at Beach Gallery showed her knack for capturing those oft neglected every day moments in the lives of pro cyclists. I love her work.

Rampworld Cardiff
New indoor skateparks seems to be springing up all over the place, though sadly none of them are that close to me. Rampworld Cardiff, set up by World Champion Manon Carpenter's dad, is one of the best.
Brooks Cambium Saddle
Brooks have long been known for their superb leather products, so it came as a nice surprise when they released a vegan saddle which looks just as good as the other seats we all love.

Tour De France in Yorkshire
The TDF began in Yorkshire this year and the buzz surrounding the event was spectacular. Sadly I couldn't make it to Yorkshire but I snuck onto the course ahead of the London stage for a sneaky ride.

Fabric's ALM Saddle
Another saddle that got the chins wagging is Fabric's one piece carbon moulded ALM saddle. Looks sweet, feels great, but it'll cost you the big bucks.

Specialized 2FO Mountain Bike Shoes
Most mountain bike shoes are ugly as hell, but Specialized women's 2FO mountain bike shoes look really nice, and refreshingly, they haven't just made them pink because they're for ladies. I haven't tried them yet but I'm hankering after a pair.