Language barriers don't matter when you can speak skate, as nomadic photographer Jonathan Mehring discovered.
Language barriers don't matter when you can speak skate, as nomadic photographer Jonathan Mehring discovered.
I was about 11 when a friend introduced me to skateboarding and I've been hooked ever since. I grew up in the countryside of Richmond, Virginia, where there wasn't much pavement and we would build ramps made of stacked firewood logs and plywood scraps. One of us would hold the plywood while the other tried to drop in and make it back and forth a couple times. Once I could drive I'd join my friends in the nearby town and go skating in the streets.
I found photography in high school, some years after, and the connection between the two was clear almost immediately. I would shoot my friends skating on the weekends, then during the week I'd develop the film and make prints. I was so enthusiastic I would show up to school an hour early each day to develop film then stay late and print in the darkroom. For a long time, this was the most constant focus in my life. Nearly all of my friends were made through skateboarding and nearly all of my career choices have been influenced by it.
Not long after graduating college, I began working for skateboarding magazines. At first, I was obsessed with the tricks and the 'who's who' of the industry. But after a few years I went into severe burnout and came back to photography as more of an art form. I started to see myself as more of a photographer than a skater. I was getting older, having knee pain, and my skate skills were not improving… so I began looking at skating from an outsider's perspective. I was working for Skateboarder magazine at the time and I realised that if I was going to stay interested I needed to do it my way – still documenting tricks but also capturing the people and the culture.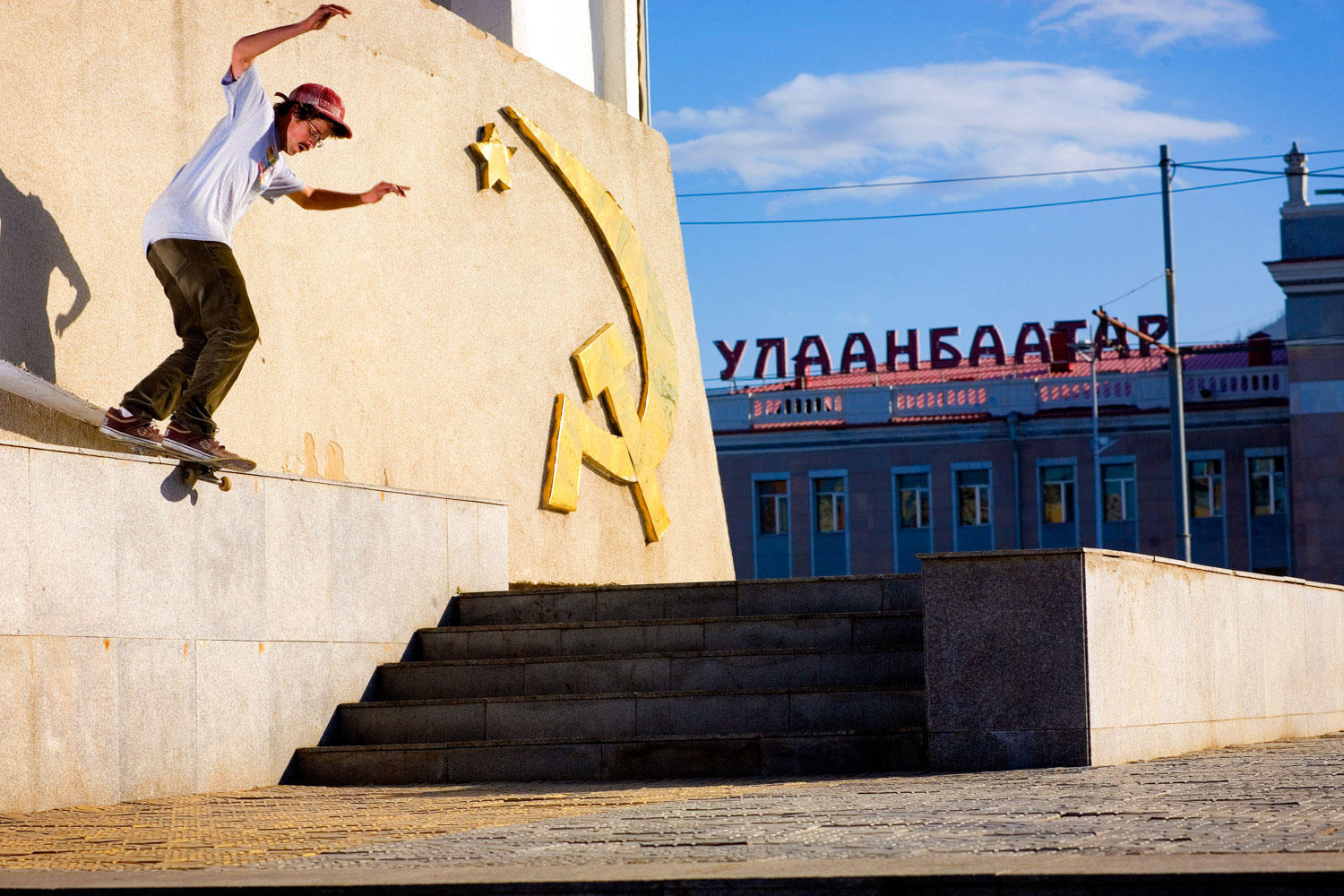 My first skate tour out of the country was a three-week trip to Hong Kong with a random group of skaters who were all into travelling. I didn't realise it at the time but that kind of adventure was just what I needed. I began to enjoy the chaos and uncertainty of skating in underdeveloped areas. I began producing trips for the magazine, taking groups of pros to places – including Kazakhstan, Mongolia, Azerbaijan, Morocco, Amazonia, India and more – where we thought we would never see another skateboarder. Inevitably there were always skaters. I soon realised it was a truly global phenomenon. It's a pure form of endless entertainment for youth around the world.
In Vietnam, we came across a tiny village on the side of a rural country road. There were three kids with a homemade skateboard that looked like something out of the '60s – a long dusty plank with four metal wheels attached to wooden axles. We immediately stopped and began trying to communicate with them. At first, the kids were shy but soon they were pushing up and down the highway on our boards laughing and falling on the pavement. After letting us try their boards we left a few of ours with them and continued on our way. The language barrier was too great for verbal communication but the skateboards were all we needed. The children were magnetically drawn to the skaters and realised we were friends with something in common.
When two skateboarders cross on the sidewalk they will inevitably stop and become acquainted. The realisation that someone else has been through similar struggles and triumphs – that they've slammed on the pavement again and again, tried the same trick for hours unsuccessfully until making it, and that they have the same sense of adventure in their veins – is enough to know you can be friends without introduction. In Bolivia I attended a skatepark build where there were nearly 100 volunteers from over twenty different countries present. After a month of hard work and living in an onsite campground, a 21,000-square foot concrete skatepark was complete.
There was no master plan, just a bunch of people who all have the common knowledge that comes with skating and a desire to do something good for the skate scene worldwide. Anywhere in the world, skateboarders – of any race, class or culture – are one. This project is the exploration of that global movement.
Order a copy of Skate the World by Jonathan Mehring.
This story first appeared in Huck 46 – The Documentary Photography Special II. Buy it in the Huck Shop or subscribe to make sure you never miss another issue.
Enjoyed this article? Like Huck on Facebook or follow us on Twitter.