Pro skater and model Stefani Nurding is using her unique set of skills to shake up a male-dominated industry.
It's lunchtime at a bustling café in London's Somerset House when Stefani Nurding rocks up carrying two skateboards. She's dressed down in a green fleece and dark trousers, though the dyed hair, winged eyeliner and black acrylic nails make her hard to miss.
Stef is a pro skater and model known for a distinctive style that mixes traditional skatewear with a '90s-influenced aesthetic; she can often be seen shredding in pink fur and tulle skirts.
But in a sport dominated by men, it's about more than just self-expression. Sometimes she'll deliberately use that hyper-feminine side to silence "misogynistic wankers" as she skates in front of them.
Most of the time, however, Stef is refreshingly diplomatic about shaking up the skate industry's outdated preconceptions – encouraging more women to try skating while educating men to be more inclusive.
"I think the industry gives us this idea of what you're supposed to be, and because the guys like that, they never challenge it," she says.
"They market skateboarding as something that's in the streets, that's dirty and gnarly and [all about] drinking beer, so they have no space for femininity at all."

Stef overflows with enthusiasm. She laughs a lot and listens more than she talks. It can take a little effort to steer the conversation back to her and when it does, she'll be inviting you shopping or trying to add you to a WhatsApp group for women skaters.
Stef prefers not to say how old she is, believing it's irrelevant, but admits that her journey has been an unconventional one.
"I've had a pretty weird life, to be honest. I had a really bad family situation and needed to get out of there. It was going to go south. So around 16 or 17, I was getting kicked out and some of my friends were doing snowboard seasons.
"I found out that if you worked [at a ski resort] you get your lift pass and food and everything included. I thought, 'That's a sweet gig. It's like living with your mum and dad!' So I did that for four years, working in a kitchen and snowboarding constantly. I was a nutter – first lifts every single day – and worked really hard."
Stef took up skateboarding while working at a hotel in Newquay that had a mini-ramp. That summer, as a Vans tour passed through town, she had an opportunity to see a load of great skaters up-close at once.

Then something clicked. Stef pursued skating until it eventually felt like more than just a hobby – picking up sponsorship while studying fashion at Plymouth College of Art, where she researched the nuances of advertising and communication within the skate industry.
Today Stef has her own skate company, Salon, which sells customised grip-tape and boards. It recently released a line of pink decks decorated with a diamond heart that sold out instantly. But even still, Stef says she won't be satisfied until Salon can support the scene properly.
"If people think it's just for girls and it ends up staying that way, it's not going to be quite as powerful," she says. "I don't want to make loads of money; I want to spread this message that it's for everyone."
Though more skateparks are putting on a 'girls night' so women can practice without feeling intimidated, Stef thinks the best way to eradicate any division between sexes is to get everyone using the same space together.
"I had a conversation with this guy the other night and he was like, 'Why can't [women] just go and shred?' And I said, 'Because sometimes they don't have as much confidence as I might have built up.' Some people just don't get that. You need to have some empathy first."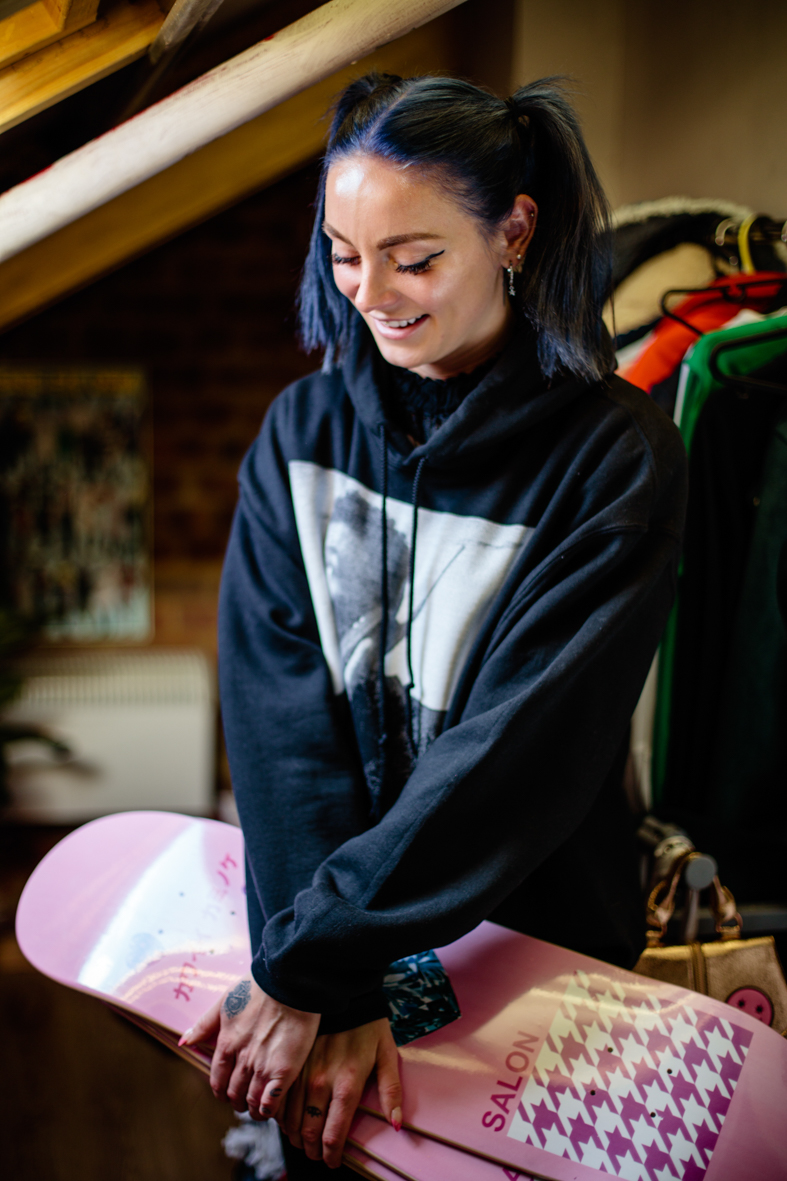 Stef says that nobody at a skate park would ever think 'that person is shit' when they see someone trying to pull off a trick, but these kind of barriers in perception seem to be ingrained – and most male skaters don't even realise the part they play in that.
"If they are behaving a certain way, then they're miscommunicating how they really feel because most of them think it's rad that there's a girl there. They just don't know how to react."
When you hear Stef articulate these points in person, her attitude and energy feel infectious. For someone who has every right not to be so positive – there have been plenty of sleazy DMs, plenty of guys not taking her seriously – she's still determined not just to go against everything the skate industry expects of her, but to make it count for something.
"It's one thing just putting on something which is feminine and skating in a tutu, but it's another thing completely to actually care about the ideas behind getting people into it," she says, moments before heading off to a skate park in the west of London.
"It's good to make everyone feel like they can be whatever they want to be. Everyone should be together and skate together and wear whatever the fuck they want."
This article appears in Huck 63 – The Fantasy Issue. Buy it in the Huck Shop or subscribe to make sure you never miss another issue.
Check out Stefani Nurding on Instagram.