Young entrepreneurs in Santiago are turning away from American brands in favour grassroots ventures.
Young entrepreneurs in Santiago are turning away from American brands in favour grassroots ventures.
Thanks to Chile's booming economy, the fastest growing in South America, young entrepreneurs in Santiago are turning away from American brands and embracing grassroots ventures rooted in Chilean traditions, myths and produce. Huck roamed the cobble-stoned city to meet the makers, boutique owners and shapers on home turf and get a sense of what's driving their desire to build something of their own from the bottom up.
BYM Records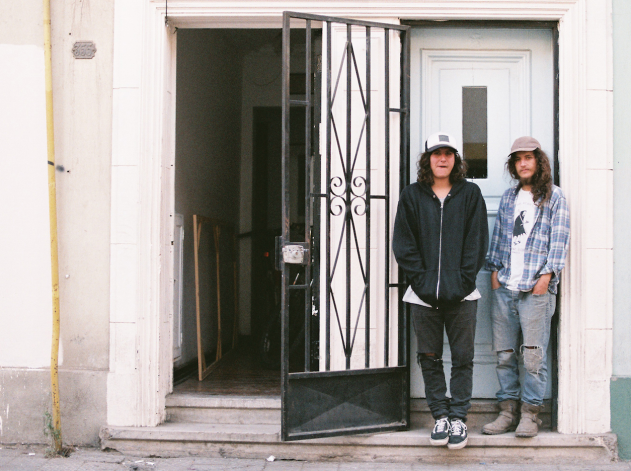 BYM records sits in the suburban folds of Providencia, home to Santiago's middle class cachet, an unlikely spot for a set-up who's acronym stands for 'Blow Your Mind'. But maybe that's the point. The serene backstreet of Victor Hendrick acts as the perfect smokescreen for the Chilean-grown drone-psych music collective who live and record in a cluster of darkened rooms. Bands signed to the label often come and hunker down with BYM for two weeks at a time to record an album, turning the house-cum-studio into an artist's commune.
Juan Pablo Rodríguez and Ignacio 'Nes' Rodríguez launched BYM in 2009, after a trip to the UK scouring for vinyl records. The duo were already working with five bands, before officially signing them, and have since expanded their ménage to include dub, pop and stoner talents, including the up-and-coming Holy Drug Couple. The producer is also set to make his first appearance at Primavera Festival in Barcelona this summer with another of his bands, Follskziod.
The Chilean charts may be dominated by latin pop and reggaeton, but BYM have carved out a niche, appealing beyond the Hispanic speaking world to the likes of America and Europe. Many BYM bands now collaborate with US labels and Nes firmly supports this opportunity: "The idea is to release music, you would be stupid to keep it on your label just to make money." Though BYM have helped local talent gain international attention, they have not expanded on the number of bands they manage and still only have one studio. "BYM wants something a bit unusual," says Juan. "We want bands who know what they are doing. A lot of people now just want to be famous and have no idea."
Semilla Skate
Semilla Skate is a skateboard design company passionate about Chilean tradition. The graphics are inspired by the animals, myths and indigenous people of Chile and Guille Gellona, the mastermind behind it all, is on a simple mission: to send a message out to the world with his designs. "A lot of people don't know what is going on here in Chile," says Guille. "I would like to get to a point where I can show the world what it is to be South American. That's why we put Condors and an old tribeswoman on the boards."
Despite his ambitions, Guille rejects the bright lights and bankrolls offered by big chain stores, preferring to sell his boards to small outlets or directly to kids he meets in the skatepark. "I believe in having something personal with the skateboard," says Guille, who sacrifices profit by selling this way. "It's not about being number one. Semilla's place in the market is about the spirit and knowledge of skateboarding."
The name Semilla, meaning 'seed', was born out of Guille's desire to do things differently. "It's planting the seeds of original thought," says Guille, whose designs reveal a fraternity with nature. For months at a time he leaves the city for the mountains of Pucon, in southern Chile. "Last time I went I built a mini-ramp with my friends and skated and made videos," he says. "You don't need to spend any money because you can eat all the fruit off the trees. There's an illusion in Chile that everything is super expensive. A lot of middle class people use credit and are in debt." However, Guille believes that there is a demographic now turning away from expensive US brands. "The kids that skate a lot know that they can get the same quality [of boards] from me," says Guille, proudly.
Equilibrio
Equilibrio Molecular Gastronomy is quite the mouthful, but its ice cream will leave you speechless. Made with liquid nitrogen gas, the ice cream is formed when a subzero vapour is released from a tank and poured over freshly blended fruit, with either yogurt, milk or water. "It's something fun, visually stimulating and it's a form of investigation," explains Andrea Porras, the co-founder of the experimental venture.
It was only last November that Andrea launched Equilibrio with her friend Clément Wallon, making it the first molecular ice creamery in Chile. The pair teamed up with Hostel Dominica taking over one of the rooms overlooking Pio Nono, a street notorious for its lethal watering holes, and they haven't looked back since.
Despite attention from local media and foodie sites, the molecular showstopper is not set to expand, instead the sweet-toothed scientists will take their tank and tour the city's cafés, setting up their lab in an eatery for a couple of weeks before moving on. "We just want to reach out to more people," says Andrea. "It's not a secret, we explain everything to people about how we create the ice cream."
By keeping their operation relatively small, the progressive ice creamers have time to experiment with new flavours. "In the summer we go for native fruit but, through the winter we have to reinvent our flavours using chocolate, coffee and nuts," explains Andrea, who is currently developing a recipe using homemade almond milk. "Being in Chile is important for our business because seasons force us to be dynamic," she says. "Customers with diabetes or those who can't eat dairy come to us and are able to have their first ice cream in years. That's why they come here and not the Starbucks down the street."
Coyote
Coyote started as nothing more than a hobby. With nothing left to do after his band dispersed, Matías Sierra and his girlfriend Florencia Tagle started making backpacks as Christmas presents for friends. Within six months the pair were catapulted into the merchandising limelight at the Bread and Butter trade fair in Berlin. Scoring attention from European buyers, the Coyote couplet had to stage their first interview in Florencia's mother's house because they didn't even have a shop for the photoshoot.
What defines Coyote's backpacks in a saturated market, is that they are simple yet emblematic of Chile's love of the outdoors. The twin peaks logo, courtesy of Matías, is a proud nod to the iconic mountains that define Santiago's cityscape. "I love my country and our mountains, nobody was using them for a brand image, so I thought it would be a good idea, it is a symbolic thing," Matías explains. He also wanted the design to send a message to customers: "I need to show this is not just for international buyers, but also for our people."
Although Coyote now ships to two major distributors in Europe, their focus lies in developing their collection, which will include new colours. "It won't be a huge collection, just a series of items that are better quality designed for bikers for spring," says Matías, from the small set-up of their one-room shop, which has been designed especially to reflect "the simple outdoors" style of the brand, complete with workshop and redbrick yard at the back.
All the materials that Coyote use for their bags are from Chile, which is why Matías thinks they are so popular in the capital. Rather than seeking out American brands, Chileans are looking closer to home. "The economy is much better than ten years ago," says Matías. "People have more money and they want unique, better quality products. The idea of having a product made in Chile is catching on and is paving a new way for business," he says. "Now there are more brands with this motto but when we started we were the first."