Calls are mounting for Cameron's resignation and an end to tax evasion
As revelations continue to surface about the British Prime Minister's tax affairs, protestors took to the streets of London today to demand David Cameron's resignation, and an end to the tax loopholes that serve the super-rich.
It's not been the best of weeks for the world's David Cameron, and with thousands of people taking to London's streets to demand his resignation, it's not looking set to get any better.
The Panama papers leak, an enormous disclosure of confidential data from Panamanian law firm Mossack Fonseca, has shone a light on the his family's vast inherited wealth – and the offshore funds it's built on. At first he declared that his tax matters were a 'private concern' – which angered many transparency campaigners, quickly making clear that neither he nor his family will benefit from any offshore funds now or in the future.
After stalling for three days and issuing four incomplete answers from Downing Street, on Thursday night Cameron finally admitted he owned shares in a a Panama-based tax haven fund, which he sold for £31,500 just before he became prime minister in 2010.
Meeting outside Downing Street, where the British PM lives, around 2,000 protestors gathered this morning to demand an end to lucrative tax loopholes that serve the world's wealthiest, and to demand the David Cameron resign for his actions.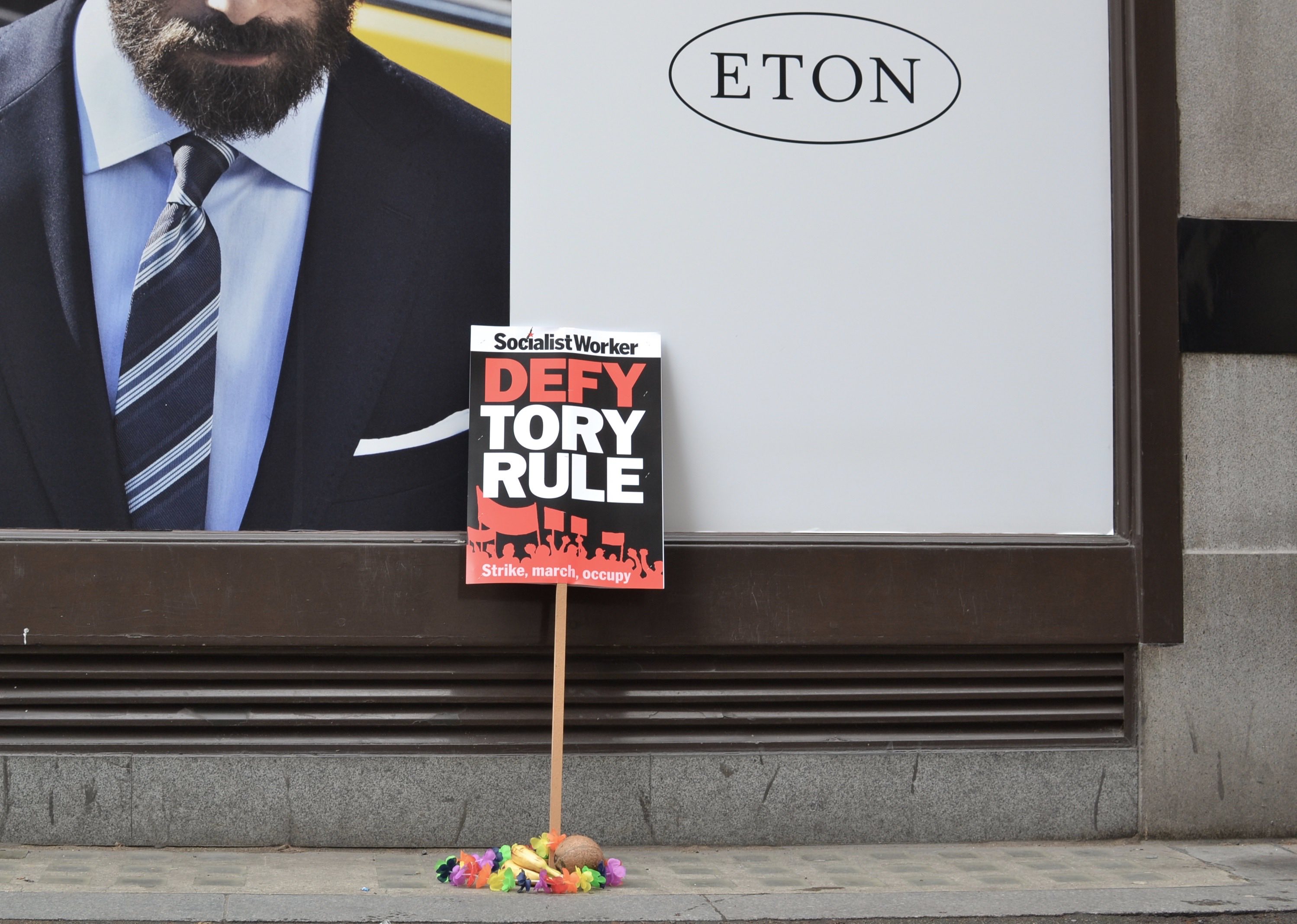 Pretty soon the march was on the move, shutting down the streets of London as people marched towards a Covent Garden hotel, where the Conservative party spring forum was taking place. As cops lined the steps of the entrances, inside the PM was admitting he'd made mistakes.
"I know I should have handled this better," he told his supporters. "I could have handled this better. I know there are lessons to learn and I will learn them. And don't blame No 10 Downing Street, or nameless advisers, blame me. And I will learn the lessons."
Back outside, this didn't seem good enough, as people took to their megaphones to call for his immediate resignation. "Do not believe that it's impossible for us in Britain to force a Prime Minister to resign", yelled Jolyon Rubinstein, an activist, campaigner and co-creator of TV's The Revolution Will Be Televised. "This movement is simply about us saying we pay our taxes! We want doctors, nurses, teachers, hospital workers to be given an opportunity to have the standard of life we need."
For some reason one Tory attendee decided it was time for him to make a getaway, seemingly unaware that a man in tweed driving a 4×4 adorned with Conservative party stickers through a crowd of angry protestors might attract some unwanted attention.
Music blaring out from portable speakers, the crowds headed back to Downing Street, where protestors blocked the road and continued chanting.
The Panama Papers leak has already claimed its first Prime Ministerial resignation, Iceland's Sigmundur Davíð Gunnlaugsson, and only time will tell if Cameron will follow suit.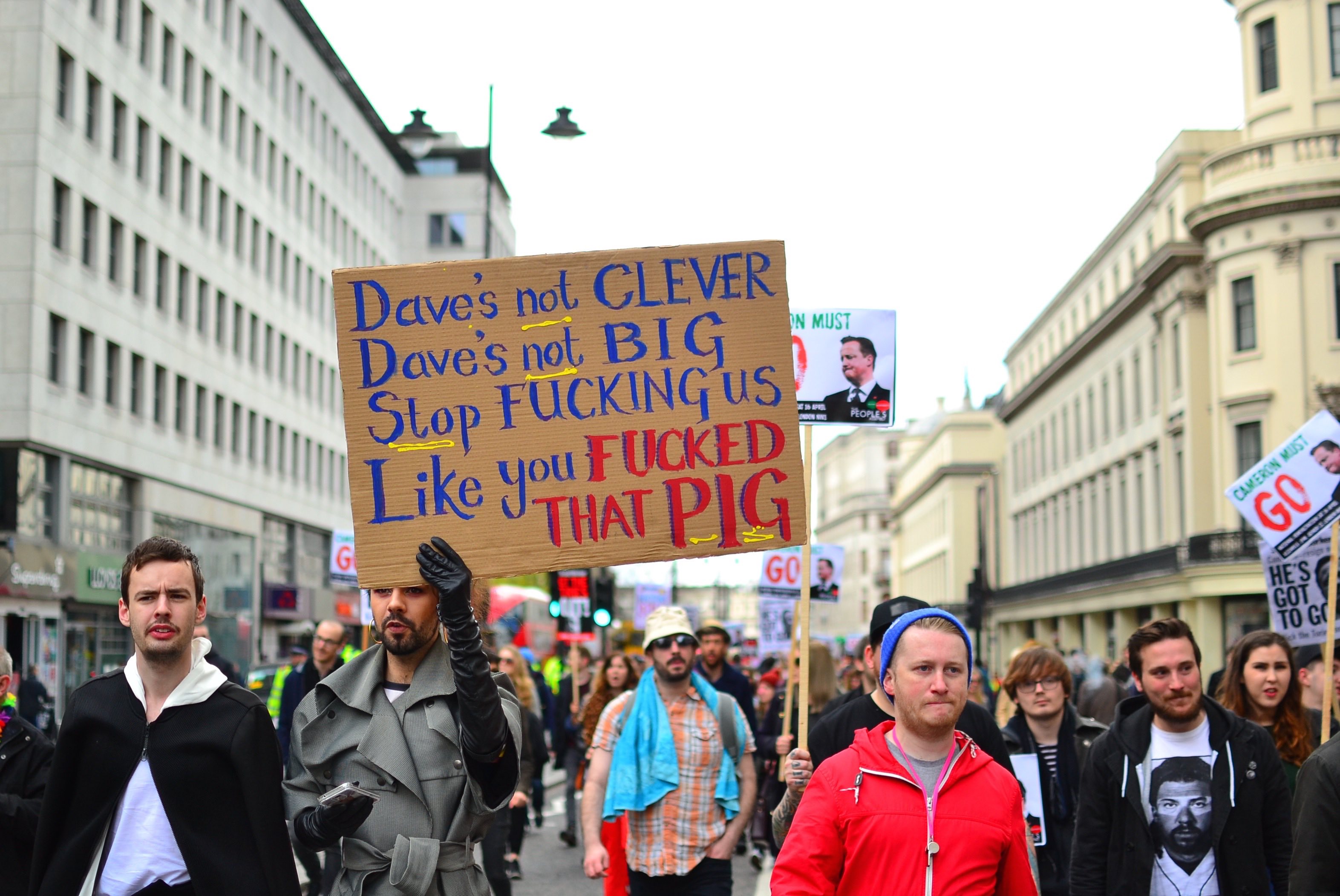 Either way, people are unlikely to let him forget about his dodgy tax arrangements any time soon, if #piggate is anything to go by.
Enjoyed this article? Like Huck on Facebook or follow us on Twitter.